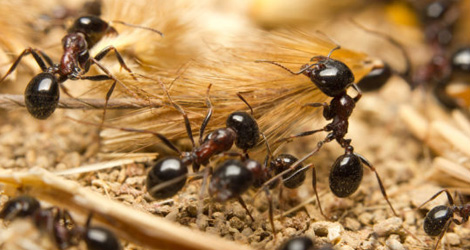 Wondering how to get rid of ants? Nowadays, ants have become the #1 pest to invade your home. If you find ants in your home or office, contact Burlington Pest immediately. Our ant exterminators are committed to delivering effective and durable ant removal solution. We will inspect your home, perform proper identification, and recommend an effective ant control and extermination solution in Burlington. You can keep ants at bay by caulking entry points and following good sanitation. Our professionals will offer guidance about how to prevent ants from taking up your residence.
Many homeowners try home remedies to get rid of ants. Some home remedies are effective, but that's not permanent. You will soon find them in your home after a few days. In order to prevent them from your home once and for all, you need to contact a professional and experienced pest control service in Burlington. Small or large infestation, we will get the right solution at highly competitive price. We have been helping Burlington residents with their pest problems for the past many years now. Our experts know how to remove these pesky pests from your home in less time.
Our ants exterminators take care of the following ants:
Acrobat Ant
Carpenter Ant
Ghost Ant
Pavement Ant
Pharoah Ant
Thief Ant
Harvester Ant
Moisture Ant
Odorous Ant
Citronella Ant
Field Ant
Argentine Ant
How We Handle an Ant Invasion
We are equipped with the most advanced ant removal products and techniques to effectively handle any level of infestation. We follow the given course of action:
Locate the potential entry points so that they can be sealed to block their entry.
Next, our professionals will use effective insecticides to exterminate adult ants and their eggs.
With a thorough inspection, we make sure there are no ants and their eggs are left.
Our professionals will then clean the area and spray disinfectant to sanitize the area.
Burlington Pest has been catering to the pest control needs of Burlington residents since a long time with their effective strategies and products. Our ant exterminators have the latest tools to eradicate the unwanted guests from your house or building.