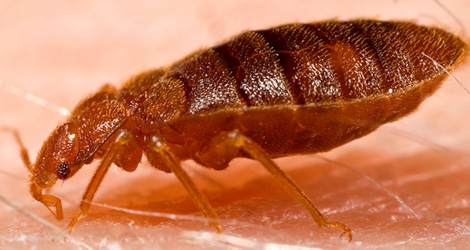 If you have pets – cats or dogs, there are high chances that your home is infested with fleas. They feed on the blood of your pet and cause allergies. Additionally, they also transfer a variety of diseases such as plague. If you suspect fleas infestation in your home, don't wait until the last minute, call Burlington Pest immediately. Our professionals offer high quality flea extermination services in Burlington.
There are different types of flea species and our professionals are aware of each of them. They use the right product and treatment for complete flea extermination. We aim to get your pets rid of fleas in no time.
How to Identify Them?
They are dark brown pests with a thin texture.
They could be 1/16 to 1/8 inches in size.
They have flat, hard body.
They can take long jumps with the help of their large legs.
Our Flea Extermination Process
Cleaning
Your infested cat or dog can help the fleas to thrive. Thus, we will clean the pet with effective insecticides. Rest assured, the insecticides we use are absolutely safe for your pets. We will apply them on your pet and clean them.
Vacuuming
After treating your pet, then we will thoroughly clean your property as well. All the areas where you pet sleeps, walks or spends most of his/her time will be cleaned. All the pet beddings, laundry will be washed in hot water. Also, the area will be vacuumed properly to remove the fleas and their traces.
Spraying
Our fleas control and removal experts in Burlington will apply residual insecticides to baseboards, carpets, cracks and on the other potential areas. We know how to and in what amount these pesticides should be used for lasting results.
At Burlington Pest, we offer quick, affordable and professional pest control services to keep your home or office safe. Our experience and wide range of solutions help us eliminate fleas in less time and permanently.